Regardless of whether you are undergoing glaucoma or cataract surgery, you will be asked to arrive at the VHHSC/UBC Eye Care Centre Surgical Suite 1.5 hours prior to your scheduled surgery time. The surgical suite is located in the basement and the street address is 2550 Willow St, on the corner of West 10th, and is part of the Vancouver Coastal Health Authority's Vancouver General Hospital site. (In other words, desite the UBC name, this building is NOWHERE NEAR the UBC Campus in West Point Grey.) There are several parking spots saved for 20 min drop-off only in the garage under the building which you can enter through the alley behind the building, between the Eye Care Centre and the Fairmont Medical Building (where Dr. Schertzer's office is located.) There are also a very limited number of parking spaces in the garage along its northern wall. Unless you are scheduled to arrive at 0730hrs when the surgical suite opens, there is almost NO chance that you will find a parking space here. There are some parking spots in the streets, in the Fairmont Medical Building or Willow Medical Building that are both on Willow, in the Holiday Inn across the street on West Broadway, and in the Diamond Ambulatory Care Centre 3 blocks away on Laurel and West 12th Ave. Please note, parking can quickly max out at $15.
Please note, you will be denied surgery if you have not arranged for somebody to meet you after the surgery to escort you home or to where you are staying on your first night. This is out of concern for your best care and no exceptions will be made.
A friendly crew of nursing, clerical, medical and sterile supplies staff will be at the Eye Care Centre to make sure you are comfortable and receive the finest care possible for your cataract surgery. The admission clerk will register you at the front desk and then you will watch a videotape that explains what to expect while at the surgical suite of the Eye Care Centre.
A nurse will escort you into the pre-operative holding area. There, she will ask you a series of questions related to your general medical health and the surgery you will be having that day. She will then place a blood pressure cuff on your arm and clip an oxygen monitor that looks like a clothes pin onto one of your fingers. You will receive a series of eye drops in preparation for your surgery. This includes an antiseptic followed by cleansing around your eye, antibiotics, anti-inflammatories, anaesthetic, and either drops to make your pupil smaller (for glaucoma surgery) or larger (for cataract or combined cataract/glaucoma surgery.) 15-20 minutes later, you will be escorted either into another area to wait for your surgery or directly into one of the operating rooms while still wearing your street clothes. You will have a last opportunity to use the washroom prior to entering the operating room. You will be provided with shoe covers and a surgical cap that you will wear while in the operating room. Once any of the sterile surgical instruments are unwrapped, the nurses, physicians and other medical personnel will be wearing masks.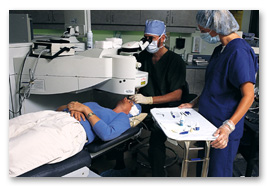 In the operating room, a blood pressure cuff will be placed on one arm, electrodes will be placed to monitor your heart, and a clip will be placed on one finger to monitor adequate oxygenation of your blood. Dr. Schertzer or one of the assistants, will then ask you to confirm who you are, which eye is being operated upon, and who the surgeon is. This 'time-out' procedure has become a standard in North America to ensure that the surgery is being performed on the correct person and on the correct side. An antiseptic drop will be instilled in your eye, then an anaesthetic jelly, and you will be asked to close your eyes gently for a minute or two. Afterward someone will clean around ('prep') your eye, then apply a sterile plastic sheet ('drape') that will cover your eye. You will have room under this drape for air to rech your mouth and, if necessary, some oxygen will be supplied.
Dr. Schertzer often has a clinical fellow or resident assisting him at the time of surgery, along with one ('scrub') nurse. There is also one ('circulating') nurse in the room who is monitoring vital signs, completing necessary documents and bringing additional surgical supplies as needed. Dr. Schertzer or an assistant will make an opening in the plastic drape and insert a wire 'speculum' to help keep your eye open. Throughout the surgery, someone will be putting drops of a saline solution on your eye so that it does not dry out. Glaucoma surgery can take anywhere from 25-45 minutes, cataract surgery from 10-20 minutes and combined surgery from 45-75 minutes from the time the speculum is inserted.
After the plastic drape is peeled off, some drops and an ointment will be instilled and a shield will be taped over your eye. In the recovery room, you will receive your post-operative instructions as to when to start your anti-inflammatory drops and resume your antibiotic drops. If you are just undergoing cataract surgery but have glaucoma as well, you will be reminded of the importance of continuing to take your glaucoma drops even on the first day following surgery as there is a high risk of your eye pressure spiking for the first couple of days.
Dr Schertzer will see you either later the same day or the following day. (From time to time, an ophthalmology resident or glaucoma fellow may see you on this first visit if Dr. Schertzer.)